Accelerator Research, Isotope Production, Pulse Modulators
Long Pulse Modulator
Long Pulse High Power Modulator
Ampegon designs and delivers stand-alone, versatile and compact long pulse modulators for use with high average power RF amplifiers, amongst other applications.
Our long pulse modulator, based upon solid-state technology, complements Ampegon's product range for pulsed, high voltage modulator and RF amplifier systems, as new applications demand high average power outputs supplied continuously over millisecond timescales.
Ampegon's long pulse modulators are known for their high degree of flexibility without compromising on efficiency or reliability. Thanks to the modular design of this newly implemented technology, these systems are adaptable to meet practically any customer specification. The design is optimized for best performance while retaining a small footprint and ensuring reliable operation by using the latest semiconductor technology.
Catalogue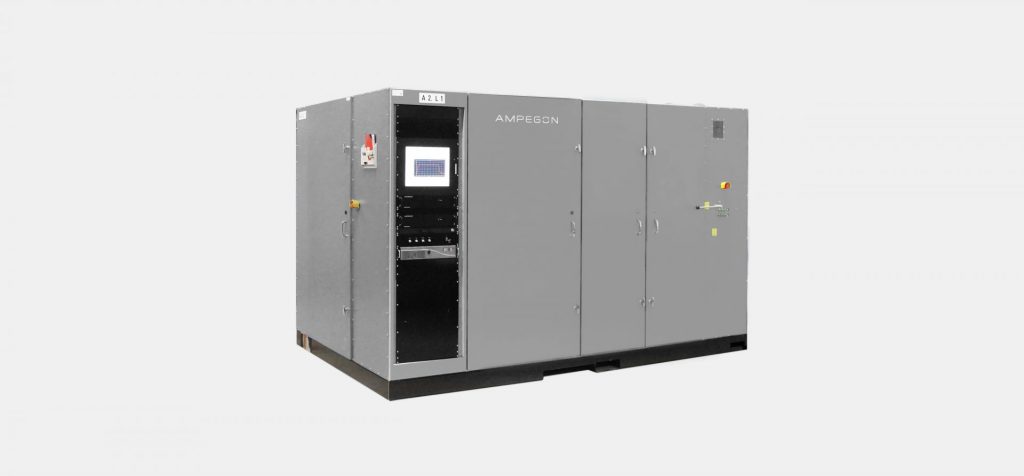 KEY FEATURES
Three different topologies available to optimize the system according to the requirement of the application
Up to 100 Hz pulse repetition rate
Continuously adjustable pulse length and amplitude
Easy maintenance due to the modular design philosophy
Crowbar less operation
Short circuit energy at the load <10 J
System efficiency (>90 %); trimmed to minimize rise and fall times
Adjustable voltage accuracy (0.1 %)