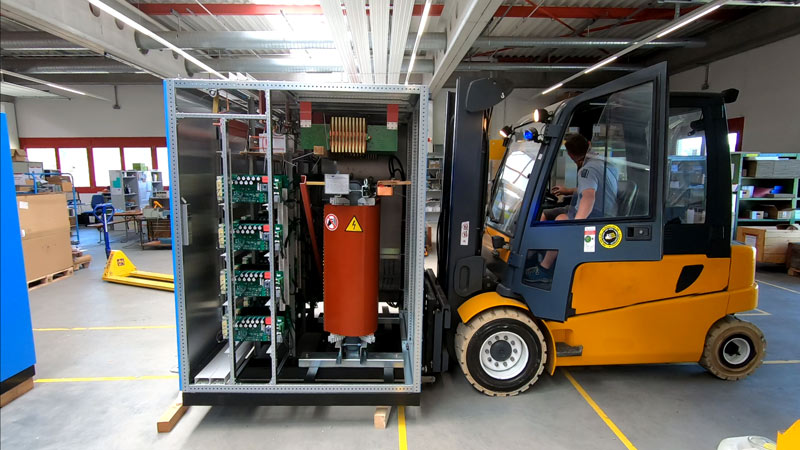 Ampegon has shipped the first of a series of four new 100kW shortwave transmitters from its factory in Kleindöttingen, Aargau, Switzerland. The transmitter RF and PSM sections were carefully moved out of the factory and onto a lorry for transfer to our shipping partner. There it will be securely packed in shipping crates and prepared for onward transport.
Ampegon's TSW-2100 100kW shortwave transmitter is an economical and reliable transmitter system intended for regional to international broadcasting. Its relatively high output power provides good signal strength hundreds of kilometers away from the transmitter when attached to a good antenna, while it is still of sufficiently low power to allow operation from standard low voltage three-phase electrical connections.
Almost all shortwave transmitters currently in production feature digital DRM capabilities, since they are specified with DRM modulators and content servers. This permits the delivery of stereo FM-quality sound and a digital data channel over the same 9/10kHz broadcast band as an analogue transmission. Additionally, when used in DRM mode, power consumption is reduced by approximately 40%-50%, saving broadcasters hundreds of thousands of dollars each year in electricity costs!
With this transmitter safely on its way to its new home, attention turns to completing the next two systems currently under testing. All transmitters undergo rigorous factory acceptance testing to ensure installation and commissioning can be completed with minimum possible disruption.
For further information about Ampegon's high power shortwave transmitter range, please see our product pages at: www.ampegon.com/products/sw-tube-transmitters/
To learn more about DRM transmissions, please visit the DRM consortium here: www.drm.org